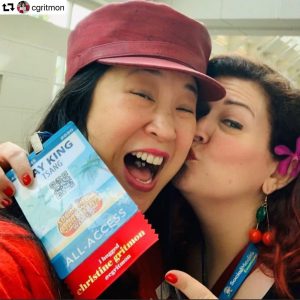 FOMO Creator is that a thing?
The easy answer is Yes! It's definitely a thing so we interviewed MayKing Tsang to find out more. Entrepreneur FOMO Creator and TEAriffic Global Mentor at SandTracks MayKing is your girl for Creating FOMO in your business.
After having to reinvent herself after a marriage breakdown and move country from Australia back to the UK  Mayking is a mover and shaker. She will tell you herself it's not been an easy journey that is for sure but this little dynamo hits the ground running, creating FOMO for businesses all over the world.
Jono and Mark and I (supporting in the background tweeting and sharing the event as it happens live) Were so thrilled to interview Mayking not just because of her incredible energy by she just gives so much and never stops giving.
So tune in for this fantastic video where Maykings shares her journey and gives so many tips you'll have to watch to take it all in.
We put together some Tips & Takeaways for you but you will pick up some much on how to create FOMO that it is really worth the time. You can also see how to contact Mayking from the Tips & Takeaways.
Our team work hard to get your the best in the business and get the most support daily with our SandTracks Virtual Coworking
We would love to hear your thoughts.
If you are a regional startup, entrepreneur or remote worker or innovation hub or co-working space you are all welcome to join us and connect to other hubs and regional entrepreneurs around the world.
By Linda McCall
Mentor and Sandtracks Community Manager.