Customers
Fireside event
Founders
Global Business
Start Up
Collective Lessons for Entrepreneurs in 2020 To Take Into 2021
Collective Lessons For Entrepreneurs From Founders Interviewed Over 2020
I collected lessons from entrepreneurs we interviewed in our fireside chats from 2020. This year has been a year of hard and fast learning.  To say 'yes' and diving into the unknown willingly and to take on the adventure through trying new things. The following are some lessons that really stood out in 2020 that will be useful for 2021.
For me personally, the year 2020 began as per normal travelling and working, going to conferences in Spain, Ireland, UK and France. By March 2020 that had all stopped due to lockdowns.  As I found myself adjusting to this new confinement with a false sense of time, I started to observe it was a place that was unknown to us all, not having experienced the inability to go where you wanted and have the freedom we normally experience.
In our businesses, we pivoted slightly and quickly to create a free online Remote Coworking Community to support Coworking spaces and Remote workers globally that where forced to close the doors. I noticed the need for community.  We moved quickly and then began (by request from our online community) to create online events all the while working from a small Gite in the Rhone-Alps.
We served our community more personally than ever before. It was a year of building networks, collaboration and connecting in the most intimate way I have ever seen in the past.
I noticed some people retreated when others reached out. Whatever it was for you it was perfect for you, because we all learnt something new no matter what if felt like at the time. So let me continue by sharing some collective lessons from the experts we interviewed with our Fireside chats of 'An Entrepreneurs Journey'.
Don't Be Afraid To Pivot
Watching and listening to your customers is vital in times of disruption as we experienced in 2020.  Stopping to add value and test new ways of connecting with others and try new avenues of connecting is essential. Pivoting is observing and having the ability to be flexible to serve your customer the best you can, to be able to understand the deeper need.
We saw some great innovation and simple pivots from business, there was so much opportunity presenting itself especially to a small business as they are the most nimble.
The year of 2020 particularly was showing us the importance of not being afraid to pivot. Some companies were able to continue but still had to implement for rapid growth. Others needed to stop and listen and observe to understand the market shifts. A lot of us needed to implement new initiatives.
The ability to recognise and not be afraid to change and adapt was essential this year and I believe that rapid change will continue in 2021.
Most of the change was implementing virtual ways for customers to interact with our business. Online sales went up astronomically in 2020 which forced companies to extend their service online. Interestingly the biggest, companies where the least agile, such as Bulgari who; even by October 2020 had no online purchasing element integrated,  while smaller companies and business were able to shift quickly to serve their customers globally.
Build community & build trust
Groups on Facebook were extremely popular and super active during the lockdowns so it was prime time to build out a community to serve your customers and or just be there to help others. Pinterest exploded from 250Million active pinners to 400 Million in 2020 which means, for some businesses, like food, travel and fashion and anything to do with dogs, it was a great place to be active. Twitter went wild and LinkedIn grew to an all-time high of active users. Companies who used social had more eyes on their stuff because people were more active on social platforms more than ever.
Building Community and reach out, and creating a space for your niche to thrive was very prominent. Giving people the opportunity to connect and communicate with your brand. It's all about building trust and being transparent, Trust is something that is difficult to build unless you engage with people and remind them how you can help them. In times like these people look for more evidence of trust. Through change, transparency and showing up is paramount.
Expect the unexpected
Expect the unexpected was a theme for 2020 and is the essence of adventure. To expect the unexpected—it's about being agile and have the ability to change and adapt. Not to expect something terrible might occur, which is often where our thoughts go, more so, just accepting that anything can happen. To let go, not to resist or wait for things to go back to normal because what was normal is not anymore. A new normal was unchartered territory and to try to make things the same as it has always been, was fools play. The biggest lesson is that the unexpected is loaded with opportunity so embased it.
Opportunity
Opportunity is everywhere all the time, but in times of disruption, it's a great time to look for the gaps to fill and discover opportunities. The best innovations occur in times like these as history has proven, time and time again. Opportunity is rife you just need to have the need to solve the problem. In disruptive times, is where greatness occurs with the simplest of ideas. Look for bridging the gaps.
Be of service to others by building relationships 
Having a service attitude allows you to be still thinking of how you can serve others better. Always being of service to others means that you're focused on solving a problem.  Build referral networks or goodwill networks to build relationships.
The simple thing is that business is about building relationships and that means to build trust. The need to be built and service focus is essential to maintain customers as competition rises so does the need to have trust in the companies that we deal with. It's not about you it's about helping others solve a problem.
Change
Change is normal. It is not the 'new normal', it's just normal.  Without change, there would be no seasons, new growth, new opportunity to thrive.
It's only when change is forced upon us that we don't like change when choices are taken away from us that is when we start to get uncomfortable. When change is forced on us it creates a make or break opportunity. An opportunity to find new paths or even create them or to fold and stop. When change occurs embrace it and learn from how people behave.
Listen and learn, but listen closely because it is the small shifts that matter.
Lead with empathy
Tami Holzman fireside chat talked about leading with empathy. Ask questions and be listen closely, rather than having the need to talk. Make people feel like they are being heard.
Take the time to be creative
Take the time to use your creativity it is really powerful. Be creative in the way that you connect with others. For example, in 2020 I reached out to people in my network and cold messaged people who I thought might be good connections and ask them in a unique fun way if they would like to have a virtual coffee and connect. This made my message stand out from the crowd and often turned out to be long-standing collaborative relationships.
Passion creates drive
Not just the passion to solve a problem intimately as a business but to be passionate about it – Dean Dobson
Having a passion for what you do and the people you serve came out in a lot of the interviews we did throughout 2020. You have to love what you do staying connected with your why you dod what you do.
Believe in what you are doing
Ryan Norris, the founder of Vayeron, shared some that some great advice and what he learned throughout 2020
"Having total conviction about what you are doing helps you when times get challenging."
For startup founders, Ryan stresses the importance of knowing this because this is one of the things he has learnt and discovered for himself as an OEM (Original Equipment Manufacturer) see more about his story here.
"Really know the value of the problem you are solving form all viewpoints."
Knowing the value of the problem from each touchpoint of the business is an excellent point. Coming from someone who walks the walk and leant this lesson and experienced it first hand.
Take a risk, and do it with conviction
Domm Holland the founder of Fast.co said in his interview from an Entrepreneurs journey fireside chats said something that rang very true and that was his parting words;
" You don't need permission from anyone."
If you want to try something and it scares you, then it's a good sign you might need to do it to get a new perspective on something you have not done before.   We can only learn from what you experience.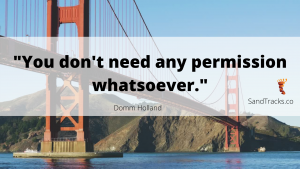 You can't do it alone
Reach out to others remember people need to be needed. Dr Tamer Shahin shares his experience growing a Tech startup and learning from the setbacks of Scaling a business with the emphasis of not trying to go it alone.
Surround yourself with great people, create a habit that enhances your life, make a belief that you can.
As an entrepreneur it is common to try to do it alone but, you dont have to.
Surround yourself with experts
Learn from those who have done what you want to do. Learn from experts who are willing to share there experience, because they have navigated the ever-shifting sands of business and they can help you on your journey.
Ask questions, ask more questions. Kim Griffin shared her insights from her point of view of building an online learning portal. She surrounded her self with people who knew the landscape and new how to validate a market and she implemented. She kept asking questions and followed up bu implementing well and set herself up beautifully for 2020 and grew exponentially during all the shutdowns.
Join groups in your niche, reach out and network. Use your networks. Often we have these amazing networks online but we are not utilising them.
A great example of surrounding your self with experts is using LinkedIn. See how with this interview with LinkedIn expert Shelly Hutchinson. We interviewed expert Shelley who is a LinkedIn expert.  I recognised by doing her LinkedIn Challenge that I have an incredible network of connections I was not utilising. Take the opportunity to connect with your network and add value to them.
Lead with the expectation of the best positive outcomes
Lead with the end in mind, the best possible outcome for all involved. A good example of this is when you go into a meeting take a moment to think about what positive result you want for everyone involved. Don't take anything for granted, be honest with yourself and others. Always find a way to add value. And lead with the expectation of the best positive outcome in mind.
Respect the people you work with
Michael Datta is the founder of the brand Bare Coffee and Mohawk. Michael is a global branding expert. In our fireside chat with him.
One thing that stood out was you need to;
"Respect the people you do business with"
If you don't respect them you are not respecting your personal and business values. Stay true to yourself and your personal values. If you are not working with people you respect then look closely at your values and make changes that are needed. Sometimes it is a lack of communication and vision that stands in the way.  When you respect yourself and others you work with, the better and easier business will flow to you.
The best way to do this is to stick with your values and always about all add value.
Remember we are here for you…
I would love to hear your thoughts you are affecting the world around you so make each thought matter of what you are putting out into the world.
Throughout the year of 2020, we have done weekly fireside chats with our mentors and other entrepreneurs worldwide. They all shared some excellent tips for entrepreneurs to remember on their journey.
Make 2021 a significant year of growth and surround yourself with other remote entrepreneurs and experts who can help you navigate the territory of your business.